+36 30 693 2725, +36 1 283 2529
Info@kevinmovers.com Nagykőrösi str 251. Budapest,1202 Hungary
Let's move with Kevin Movers!
Welcome to Kevin Movers, the international moving and removals company in Hungary. Whether you are moving down the road, to the other side of town, or across the country, you need to make sure your possessions are in good hands. We believe, that when you move with Kevin Movers you realize that you have chosen the right company on the best value. Let us hear from you! Whether it's a moving question, a better idea for pet transportation, an input or suggestion about our web site or services. Browse through our site, e-mail or call us and let's discuss and see how we can help you.

Pay online!
If you choose us you can pay for your movement online! It's safe, cozy, practical and fast!
Moving service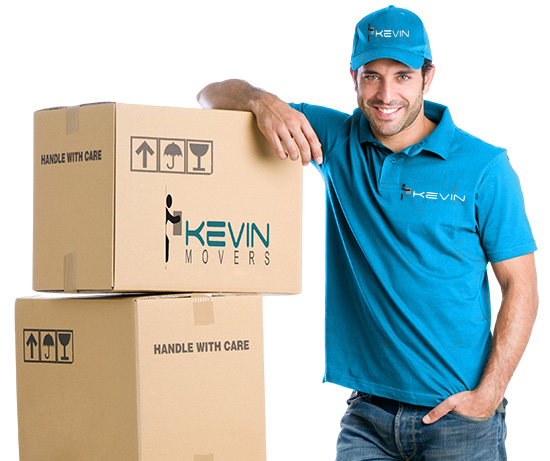 We offer a wide range of professional packaging materials, origin and destination services, storage and many other services, so you should be able to find one that suits both your needs and your budget. Our team can plan, coordinate, and execute the move in a way that not only meets your time requirements but provides you with a stress free solution.
ISO 9001 2008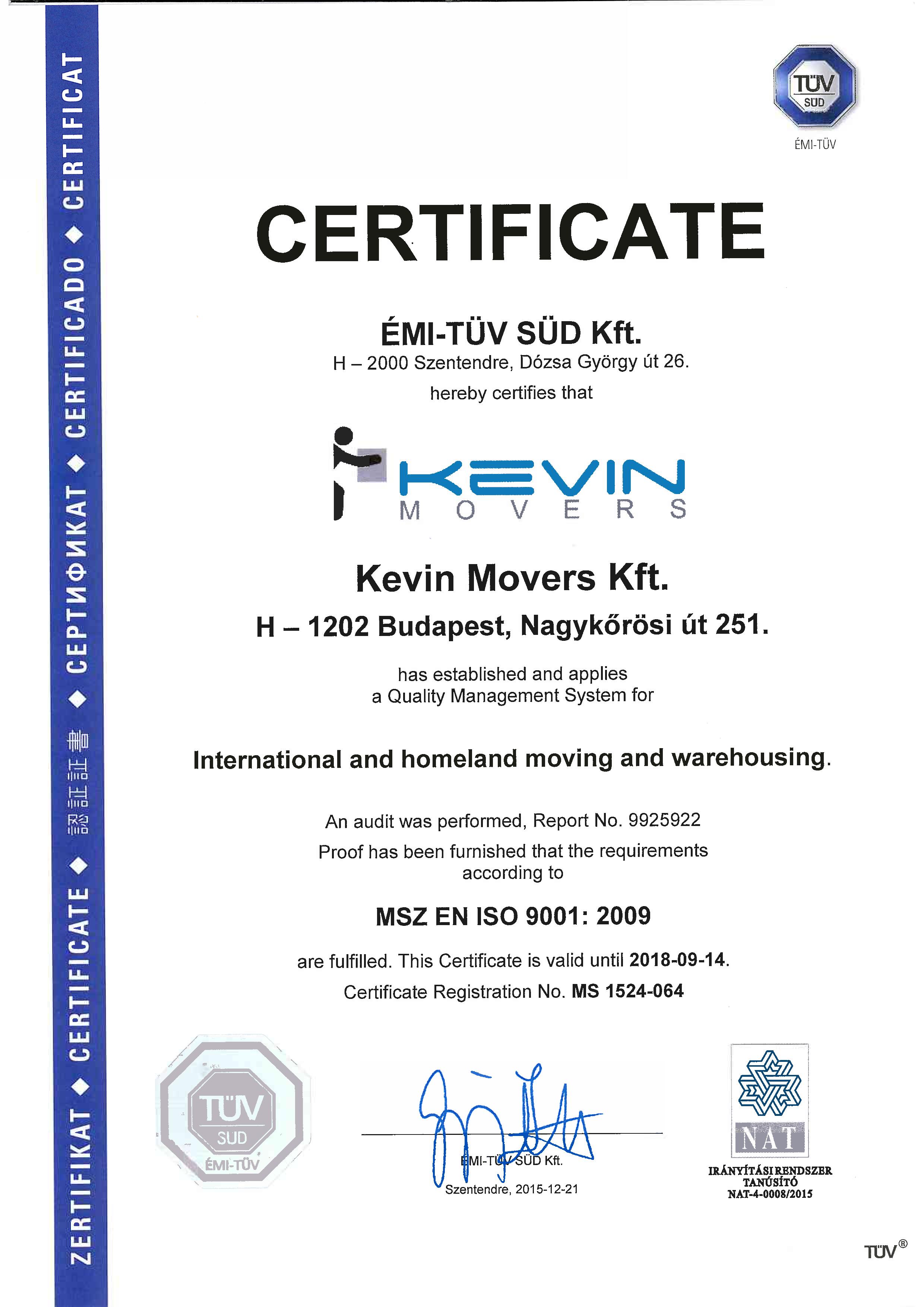 VET Certificate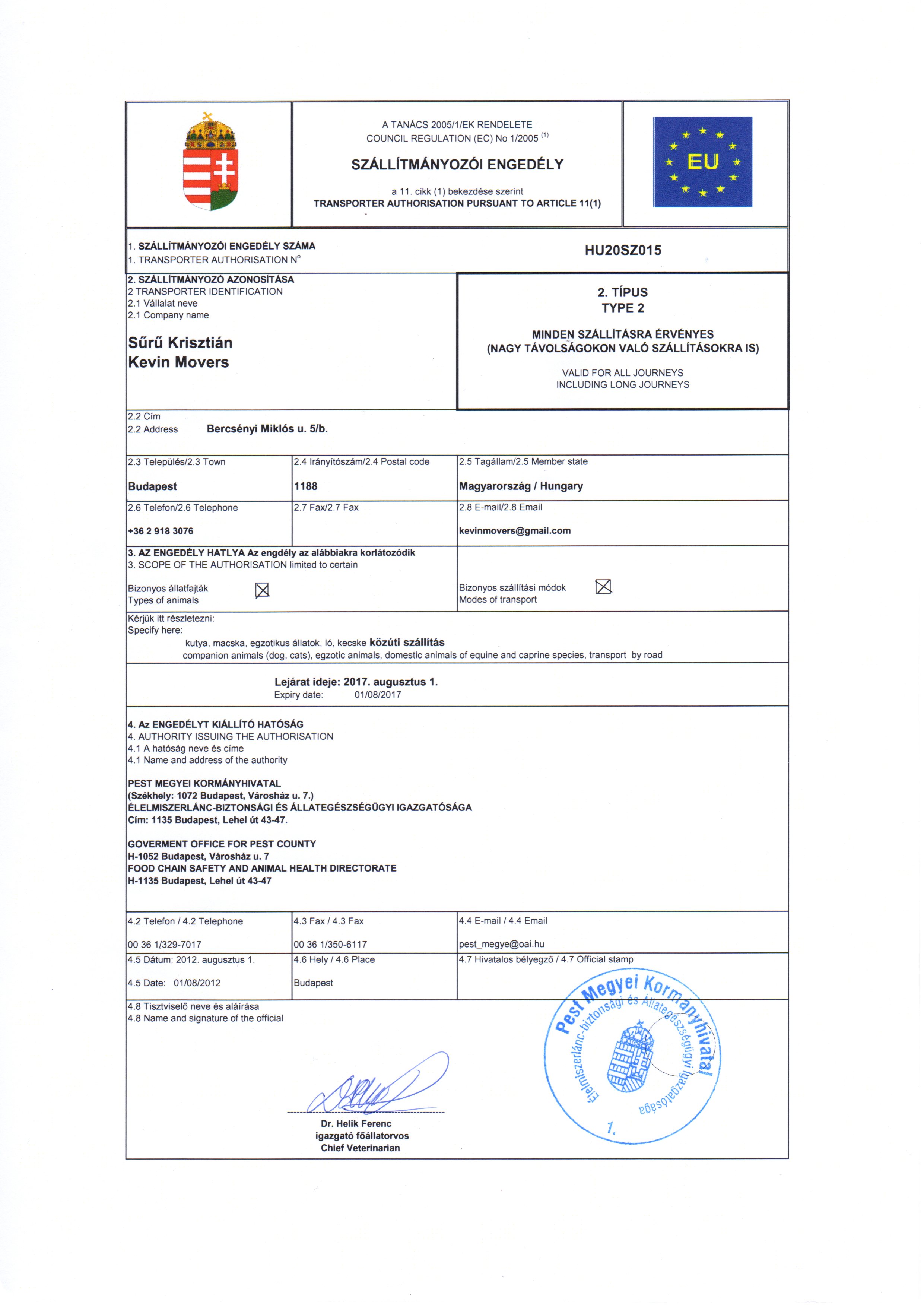 ISO 9001 2008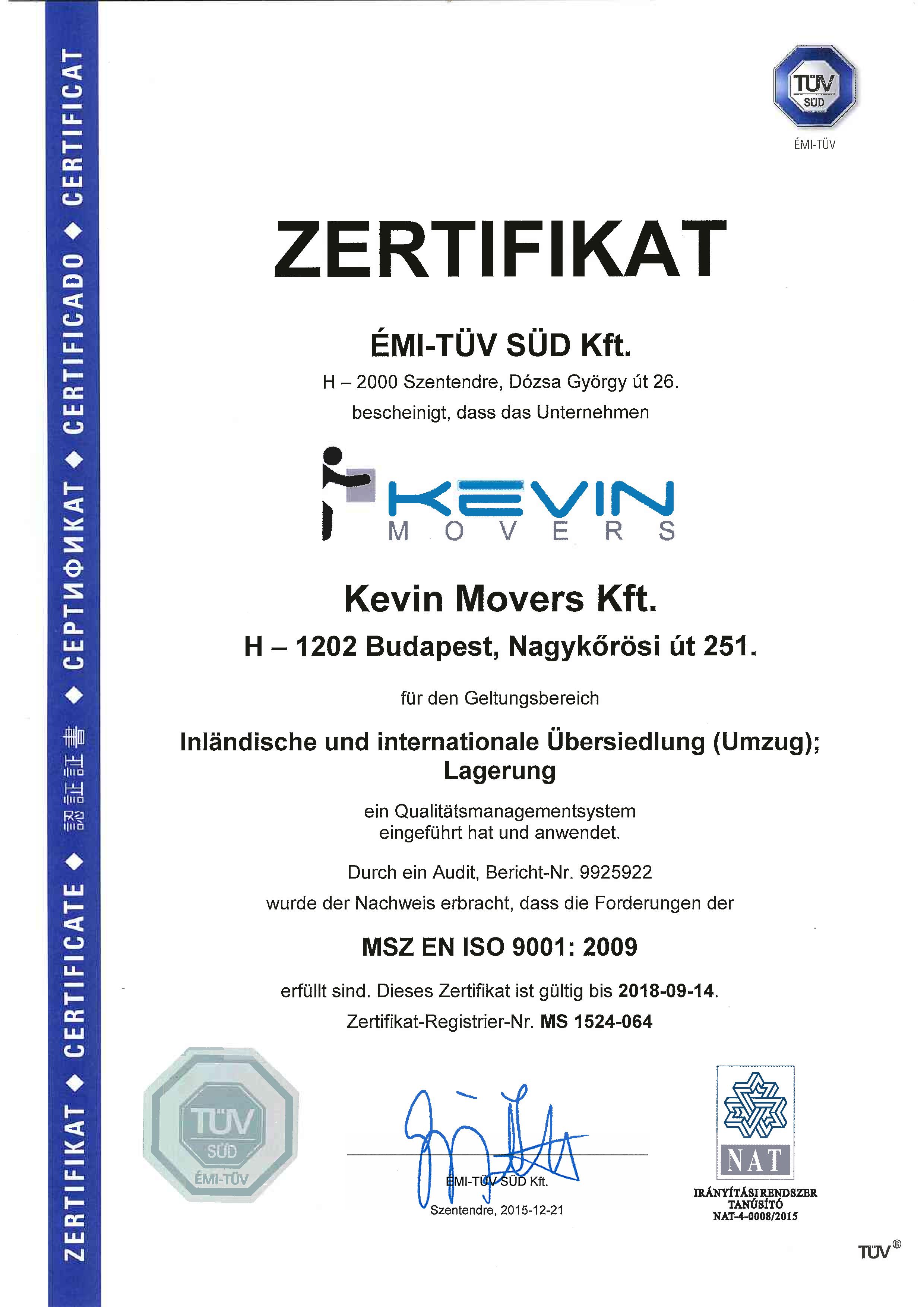 Rólunk mondták
Nagyon meg voltunk elégedve a Kevin Movers csapatával. Az árajánlat kalkulátoruknak megfelelően telejsítettek, szépen csomagoltak és vigyáztak az értékeinkre. Ha legközelebb is költöznünk kell Mi biztosan őket fogjuk választani! Köszönjük!
Viktor
Zárt dobozos autókkal dolgozunk!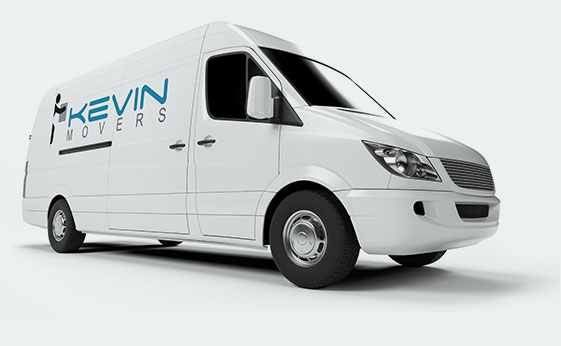 Ponyvás teherautó nem költöztetésre való.
Nálunk a biztonság az első. Költöztető autóink nyomkövető rendszerrel vannak felszerelve igy ügyfeleink ingóságaikat teljes biztonságban tudhatják a szállítás alatt. Teherautóinkat a rakodást követően plombával látjuk el, még belföldön is. Gépjármű parkunk minden a költöztetéshez szükséges felszereléssel rendelkezik a szállítás közbeni sérülések elkerülése végett. Jó minőségű erősített amerikai költöztető paplanokkal védjük az ingóságot vagy kérésedre kartonba csomagoljuk.
Call now!
Thank you to choosing our services! Browse through our site, e-mail or call us and let's discuss and see how we can help you. 
+36 30 693 2725 +36 1 283 2725
Nagykőrösi str 251,Budapest, 1202 Hungary
Loading map...